Your Free guide
Everything you needto know about startinga Glamping Business.
So, you've got a great idea, and a ton of enthusiasm. But where do you start and how do you know if it's going to work?

We've broken the essentials down into steps so that landowners and entrepreneurs alike can digest them quickly and follow them easily to help them start a successful glamping business. If you're embarking on that journey, make sure you don't miss anything by downloading your free guide today.

Trust us! We know glamping!
23+
Glamping
sites
created
500+
Feasibility
studies delivered
Learn from our experience
We can help youachieve your glampingsite goals
Starting a glamping business can be daunting. We know because we've done it!
After planning, designing and project managing an award-winning glamping site – NC500 Pods - we learned about the pitfalls and figured out the best approaches to getting a brand new site off the ground. One successful project led to the completion of dozens of other glamping pod businesses for ourselves and our clients.
As the UK's only glamping design and implementation specialists we are here to help potential site owners tackle the process one step at a time.
Our free guide sets out these steps to make it easy for you to make a start.
Hear from our clients
Testimonials



Sam Westworth
Lune Valley Pods
"We have worked with Glampitect on a number of projects and each of them has been a massive success"







Jonny Chalk
Dairy Cottage Glamping
Having come across Glampitect online I went ahead with a feasibility study on a piece of unused land my family owns. After the feasibility study we quickly realised the plot has massive return on investment potential with glamping so we went ahead with pre-planning then full planning"





Morag & Jonny Sallabanks
Braeview Glamping
"We met Calum & Ali at the glamping show in 2019 and knew straight away they were the guys to help us start our glamping business from the ground up. We are delighted with their services and would recommend them to anyone"





Free download
All the essentialsteps to setting upa glamping business from start to finish
There are many benefits to venturing into the growth industry of Glamping. Owning and running a glamping site can be hugely rewarding, financially and personally, but there is a lot to think about before you launch.
We've already been where you are, and we've helped many other owners in your position. Now our free guide explains in a simple, step by step format everything you need to think about before you start.
A sneak peek of what you get
• What to do before you start
• What is needed for planning permission
• Business set up and business plans
• How to create your online presence
• On-site planning & site set-up
• Taking bookings online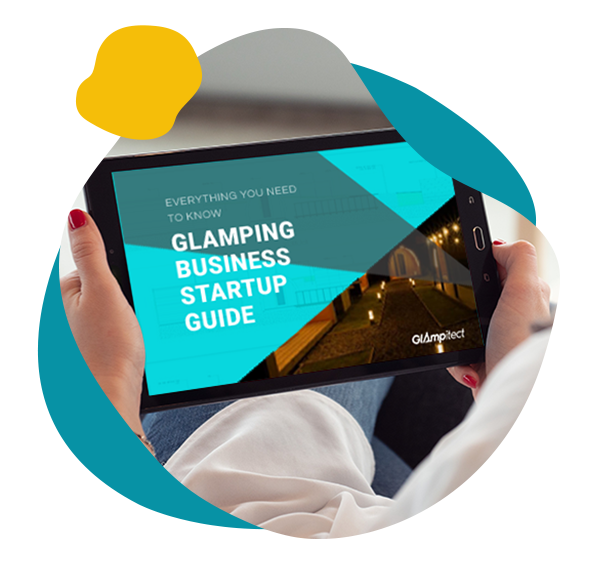 FAQ
For every problem there is a solutionand we believe
Glampitect is the solution for everyone looking to start aglamping business

Do I need planning permission for camping pods?

The answer is…. probably. There are some exceptions which we will explore first to see if you can exempt yourself. Then we will go on to discuss what you do need to satisfy planning for those that do need permission.
Local council planning has a few requirements that will definitely be needed when submitting an application and some which may or may not be, depending on each council's preference.

What is the Return on Investment for glamping pods?

Any individual, or company, considering setting up a glamping site will want to have solid advice about the investment involved, and how much return on that can be expected.
There are a number of elements to be taken into account when planning your investment and decisions taken at the start will affect the speed and the level of your returns.

Is it worth setting up a glamping site on my land?

Before you invest in starting a glamping business, you need to know if it is practical. A feasibility study will help you determine if there will be sufficient demand for your site, who your target audience will be and what they are looking for in a holiday.
A feasibility assessment lets you depend less on trial and error and more on reliable data.

Why is glamping site design important?

Planning out the right site design should be done with thought and effort. An attractive glamping site is more likely to be successful.
A glamping site design typically includes the location pods, pavements, roads and other facilities etc. Having a structured design is key, so make sure that everything is in the right place and you have a good idea of what it would look like.